STAFF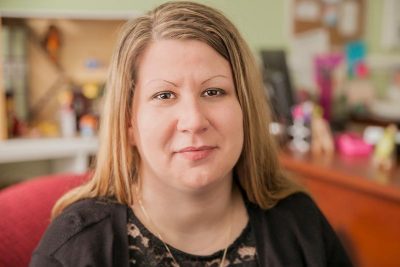 Arkady Millard, MSN, RN, PMHNP-BC
HOBBIES AND INTERESTS
Ms. Millard enjoys spending time with her family and friends. She loves animals and has four pets — 2 dogs and 2 cats. She also enjoys reading and photography.
Arkady Millard, MSN, RN, PMHNP-BC
TRAINING AND CREDENTIALS
Arkady Millard, MSN, RN, PMHNP-BC, graduated summa cum laude from the Minnesota State University-Moorhead in 2011 with a Bachelor of Science in Nursing (BSN). Her minor field of study was psychology.  She has always had a passion for helping others and found her niche in psychiatric-mental health nursing. She focused on this specialty for her undergraduate nursing preceptorship, whereby she completed 120 clinical hours on an inpatient adult psychiatric unit. After college, she moved to Charlotte, N.C., and began her career as a registered nurse. In 2013, she moved to Durham, N.C., to pursue a graduate degree at the University of North Carolina at Chapel Hill.  She graduated with a Master of Science in Nursing (MSN) in 2016, completing the qualifications to work as a Psychiatric-Mental Health Nurse Practitioner (PMHNP). She also completed additional coursework to obtain a graduate certificate in nursing education. She has experience with a variety of treatment approaches and different therapeutic modalities. Some of these include: Dialectical Behavioral Therapy (DBT), Electroconvulsive Therapy (ECT), Equine Therapy, Seeking Safety and Trauma Recovery Groups.
AREAS OF CLINICAL INTEREST
Ms. Millard has more than eight years of experience working in this field, initially as a psychiatric technician, then as a psychiatric registered nurse, and now as a psychiatric-mental health nurse practitioner (PMHNP). She has worked across a multitude of settings with all ages, including a psychiatric emergency department, observation units, inpatient units, partial hospitalization, outpatient and a group home. She has also worked on specialized units that include adult intensive care, child/adolescent, crisis, dual-diagnosis, eating disorders, geriatric, psychotic and substance abuse/chemical dependency.
Ms. Millard believes that early interventions are crucial to a child's future health, well-being and success, and she enjoys working with the children and adolescent population. She is particularly interested in attachment, personality disorders, trauma, neuroplasticity, and the role of genetics in psychiatric-mental health conditions. She focused on Borderline Personality Disorder (BPD) for her master's thesis and examined how increased understanding of BPD can improve patient interactions and therapeutic effectiveness.